The House of Assembly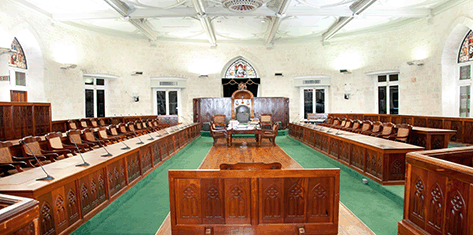 The House of Assembly comprises 30 members elected by adult suffrage on the first past-the-post system. The Presiding Officer of the House of Assembly is the Speaker. Visitors to the public gallery are called Strangers. The House of Assembly usually meets on Tuesday, but if there is urgent business a meeting can be called on any other day. Senate usually sits on Wednesday.
Highlights of the House of Assembly
The Speaker's chair is a gift from the Government of India to the People of Barbados on attainment of our Independence on November 30, 1966.
The stained-glass-windows, which were manufactured in the 1870s by Clayton and Bell of the UK, feature the British Monarchs from 1603 to 1836 including Oliver Cromwell who was Lord Protector 1653-1658.
The life of a Parliament is for five years from its first sitting after a general election.
The Hallway
The main entrance to the House of Assembly has a Bust of Sir William Conrad Reeves the first black person to be knighted. His many achievements included many years of outstanding service in the practice of the law, as a law officer, as a member of the House of Assembly and 16 years as Chief Justice of Barbados. His career was a long record of faithful service to all classes of this country.
At the entrance to the Chamber is a list of all Members of the House of Assembly since adult suffrage in 1951.
Speakers of the House of Assembly
Col. Thomas Modyford
1652, 1654, 1661-1654
Capt. George Martin
1665
Lt. Col. Simon Lambert
1660; 1669-1673
Col. John Burch
1661
Samuel Farmer
1665, 1667
John Jennings
1667
Henry Walrond
1669-1671
Henry Skeete
1672-1673
Col. Christopher Codrington
1674, 1678, 1681, 1682
Col. William Sharpe
1676-1678, 1682-1683
Col. Richard
1679-1681
Ricahrd Seawell
1684-1685
John Reid
1685-1687, 1689
John Farmer
1687
Judge Foster
1688-1689
J. Bromley
1690-1691
John Sutton
1690-1691
Wm. Foster
1690
Robert Harper
1690
John Mills
1691-1692
Willoughby Chamberlaine
1692-1693
Col. Waterman
1693-1694
Abel Alleyne
1694
Col. John Colleton
1694-1695
Col. Robert Bishop
1695-1696
Lt. Col. Thomas Maxwell
1697-1700, 1702, 1703
James Colleton
1700-1701
Lt. Col. Richard Downes
1701-1702, 1708-1712
William Holder
1703-1706
Wm. Wheeler
1706-1707
Reynold Alleyne
1712, 1714-1715
William Carter
1712, 1714, 1715-1717
Edmund Sutton
1717-1720
George Forester
1722-1723
Henry Peers
1727-1731, 1736-1740
John Lyte
1740-1742, 1760-1767
Sir William Gibbons, Bart
1742-1760
John Gay Alleyne, Bart
1767-1770, 1772-1779
Samson Wood
1770-1772, 1780-1787
Joshua Gittens
1797-1804
John Beckles
1804-1819
Thomas Griffith
1819-1821
Cheeseman Moe
1823-1825
Robert Haynes
1825-1829
Col. Nathaniel Forte
1829-1835
Samuel Hinds
1836-1839
Sr. R.B. Clarke
1839-1840
George Taylor
1841-1846
Francis Gooding, M.B.
1846-1847
Sir John Thomas
1847-1860
Chas Packer
1861-1867
Thomas Gill
1867-1870
Edmund Lee Haynes
1870
Agustus Briggs
1871-1875
John Glasgow Grant
1875-1879
George C. Pil
1879-1880
Henry Pilgrim
1880
John Kellman
1881-1883
A.J. Pile, C.M.G.
1883-1885, 1887-1889, 1891-1893, 1894-1898
Timothy Yearwood
1886-1887
W.H. Greaves
1889-1890
E.B. Colvin
1891-1893
Sir F.J. Clarke, K.C.M.G., V.D.
1898-1934
G.D.L. Pile, O.B.E.
1934, 1937, 1942-1944
Sir. H.B.G. Austin, O.B.E.
1934-1937, 1938-1942
G.B. Evelyn
1944-1948
Sir K.N.R. Husbands
1948-1956
Dr. H.G.H. Cummins, C.B.E.
1956-1958
Sir J.E.Theodore Brancker, Q.C.
1961-1966
N.G.A. Maxwell, Esq., LL.B.
1971-1976
C.A.E. Hoppin, Esq., J.P.
1976
W.C.B. Hinds, Esq.
1976-1984
C. Lindsay Bolden, Esq., LL.B.
1984-1986
Lawson A. Weekes, G.C.M., J.P., M.P.
1986-1994
His Hon. Ishmael A. Roett, G.C.M., M.P.
1994-1999, 1999-2004, 2004-2008
His Hon. Michael A. Carrington, M.P.
2008-2013, 2013 - 2018
His Honour Arthur E. Holder

LL.B.,

2018 - Present