The Senate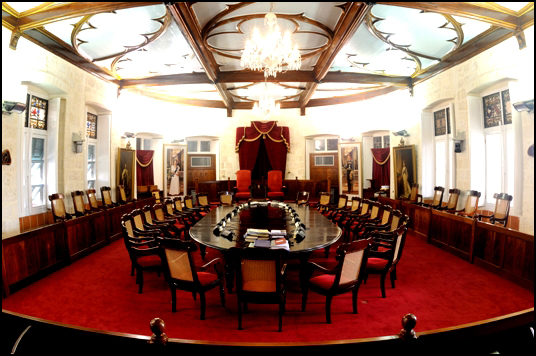 The Senate comprises 21 members. These members are appointed by the following process:
12:- by the Prime Minister
07:- by the Governor-General at his discretion to represent various interests in the community such as religious, economic, social or other such interests as he thinks ought to be represented; and
02:- by the Leader of the Opposition.
Senators may also be appointed as Ministers or Parliamentary Secretaries. The Senate meets chiefly when there is business from the House of Assembly.
The Presiding Officer of the Senate is the President. He sometimes performs the functions of the office of Governor-General where the Governor-General is away from his post.
The Senate is referred to as the Upper House.
Highlights of the Senate
The Senate Chamber features a fine oval mahogany table which is part of the original furniture of the Chamber.
The stained-glass-windows in the Senate feature the Coats-of-Arms of former Speakers of the House and Presidents of the Legislative Council which preceded the Senate.
The Chandeliers are made of Waterford Crystal and were a joint presentation by Lord Wedgwood of Barlston, England and Mr. Geoffrey Cave of Cave Shepherd, our main department store, to the people of Barbados for the 350th Anniversary of Parliament in 1989.
Presidents of the Legislative Council
John Brathwaite
1813
John S. Gaskin
1835
Grant E. Thomas
1847
Sir T. Graham Briggs. Bart.
1876
Sir George C. Pile
1882
W.P. Leacock
1906
Sir W.K. Chandler
1912
Sir J.R. Phillips, O.B.E.
1928
Sir G.L. Pile, C.B.E
1938
Sir John Hutson, O.B.E., V.D., M.B., C.M., D.H.P.
1942
S.C. Thorne
1944
Sir D.C. Leacock
1947
Sir J.D. Chandler
1950
Sir H.A. Cuke, C.B.E
1956
Sir H.G. Masiah, C.B.E., M.B., C.M.
1956-1963
Presidents of the Senate
Sir H.G. Massiah, K.B.E., M.B., C.M.
1964-1966
The Hon. Sir E. Stanley Robinson, C.B.E.
1966-1974
The Hon. Sir J.E. Theodore Brancker, Q.C., F.Z.S.
1971-1976
The Hon. Sir Arnott S. Cato, K.A., K.C.M.G.
1976-1986
The Hon. Sir Frank L. Walcott, O.B.E., LL.D.
1986-1992
The Hon. Marcus deL. Jordan
1992-1994
His Hon. Senator Sir Fred Gollop, K.A.
1994-2008
His Hon. Senator Dr. Branford M. Taitt.
2008- February 2012
Her Hon. Senator Kerryann F. Ifill.
March 2012 - 2018
His Honour Senator Dr. Sir Richard L. Cheltenham, KA, Q.C. PhD., J.P. B.Sc. (Econ.)
May 2018 - Present